Esko HeightMaster Nexus Helmet – Elevated Work Safety Redefined
Introducing the Esko HeightMaster Nexus Helmet – a top-of-the-line EN12492-rated height safety helmet system built for the brave professionals working at elevated conditions. Whether you're in construction, scaffolding, maintenance, arboriculture, silviculture, or recreation, this modular helmet surpasses the AS/NZS 1801:1997 requirements, making it an indispensable tool for your safety.
Advanced modularity with a high-performance vented ABS shell to withstand rigorous environments.
Superior Comfort: Premium Twist2Fit ratchet headband secures a comfortable fit for head sizes 53–63cm.
Highly Absorbent: The incorporated Premium Dry-Tech sweatband provides 40% faster drying and absorbs 4x more moisture, enhancing wearer comfort during prolonged use.
Cold Resistant: Proven performance in extreme cold, tested down to a harsh -40°C.
Enhanced Visibility: Comes with a reflective sticker kit, plus a micro peak for optimum upward visibility.
Customizable: Available in multiple colours including white, fluoro yellow, fluoro orange, red, yellow, blue, orange, black, green.
Lightweight: Weighing only 480g, it's designed for comfort during extended wear.
Complete with a fully removable and adjustable EN12492 4-point chinstrap and liner, the HeightMaster Nexus Helmet promises both safety and comfort. With an in-use life of up to 5 years from the date of issue, it is a durable and cost-effective safety solution. However, please note that excessive wear & tear and use in extreme environments can considerably reduce the product's lifespan.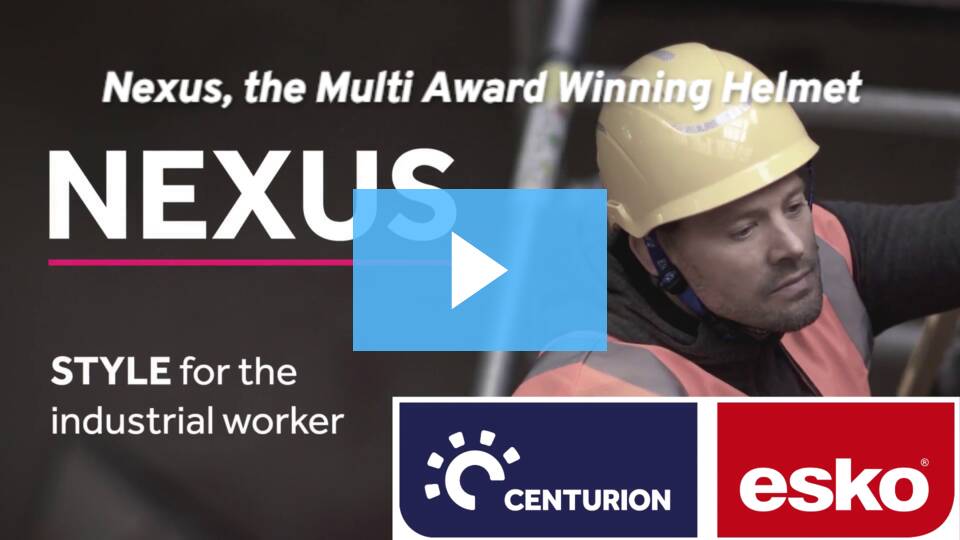 Click here to see the HeightMaster Nexus Helmet in action
Meet your obligations for occupational safety with our multiple award-winning Nexus Helmet, backed by leading certifications such as AS/NZS 1801, ANSI Z89.9 Type 1 Class C, CSA/CAN Z94.1 Type 1 Class C, EN 397, EN 50365, and EN 12492. Let's elevate the safety of your workplace with Esko HeightMaster Nexus Helmet.
Certifications and Compliance
In an industry where safety is paramount, Esko HeightMaster Nexus Helmet stands out with its impeccable record of certifications, reinforcing its reputation as a high-quality, reliable product.
AS/NZS 1801: This Australian/New Zealand standard evaluates occupational protective helmets for robustness of the helmet shell and finish, and it verifies through rigorous testing methods.
ANSI Z89.9 Type 1 Class C: This US standard specifies performance and testing requirements for industrial helmets, including force transmission, flammability, apex penetration, and wetness, among other factors. Class C signifies no electrical protection.
CSA/CAN Z94.1 Type 1 Class C: The Canadian equivalent to ANSI Z89.9, it uses a similar testing regime.
EN 397: This European standard tests industrial helmets for impact shock absorption, penetration and chinstrap retention. Optional tests for high/low temperatures, molten metal, electrical voltages up to 440V and lateral deformation are also included.
EN 50365: This standard certifies insulating helmets for use on low voltage installations, offering protection against electric shocks up to 1000VAC or up to 1500VDC.
EN 12492: This is the European mountaineering helmet standard, often applied to height safety helmets. Test items must endure an impact from a falling mass onto a fixed headform, with additional impacts required at the front, side, and rear of the helmet. This standard also tests resistance to penetration by sharp objects at any point around the shell of the helmet.
With these certifications in place, the Esko HeightMaster Nexus Helmet goes beyond just complying with safety regulations – it redefines them. It's time to elevate your safety standards with the HeightMaster Nexus Helmet, a trusted companion for those working in elevated work conditions.